About Us
About Adv.Bapusaheb Bhonde High School
The city of Lonavala has significant and strategic location on the map of the state of Maharastra. It is almost at the centre of the most progressive and prosperous Mumbai-Poona belt of the country. Mumbai being financial capital and Poona is seat of education, cultural and sports capital and off late I T hub . Even then our city is neither blessed with wealth nor can boast to have excellent educational facilities and infrastructure.
Under such gloomy and pathetic circumstances , the founder of our Trust late Shri Bapusaheb Bhonde felt the need to commence a school . The City then had 2-3 Marathi medium school, two Convent schools and 1-2 English medium schools. So with his extraordinary brilliance and vision he decided to commence an English medium school, which would cater to the students hailing from middle class and down trodden society.
It gave birth to a school , then being named as " Saraswati Vidyamandir". The school which commenced in the month of June 1996, with 8 students on its muster role, started gathering a huge reputation . The school was then run from a very pious and sacred place of Ram Mandir compound , from " Ramdas Hall " to be precise. The school was gaining huge response and reputation, the strength of the students was on rise and the then infrastructure was proving to be extremely inadequate.
In these testing times, the Trust was to face another big blow. The founder of the Trust Bapusaheb Bhonde expired on 3rd December 2004.The Trustees imposed trust in the Present Chairman. Under His stewardship , we commenced the challenge from 26th December 2004.
We commenced with extraordinary zeal, zest, vigour and enthusiasm. Our spirit was ignited and with extraordinary determination to fulfill the dreams of our founder, we resolved to construct a beautiful school, which would be a tribute to our late founder and a monument in his name. The school was therefore named after the name of our founder Trustee and is now known as " Adv Bapusaheb Bhonde High School ".
We thus commenced the work on 1st January 2005 and on 11 th July 2006 , on the auspicious day of " Gurupoornima ", we shifted to the present campus. We shifted from our old place which was inadequate to accommodate the influx of new admissions. The present infrastructure was also proving to be inadequate, as the school was gaining huge popularity in Maval taluka. With the passage of time we kept on enhancing and expanding the infrastructure of the school to accommodate the challenges of the time and influx of the students.
Today there stands an impressive and elegant school building. It comprises of stilt plus four floors. With the installation of roof, the infrastructure shall gain further advantage. Very soon we are installing solar panels to explore and exploit the natural energies. We have already commenced rain harvesting as we use sewage water for our well kept garden. Our school shall be the first eco friendly school in entire Poona district or at least at the Taluka level. The school building has 45 classrooms, separate laboratories for chemistry and physics, two computer labs, an Art room, a spacious library and the ground with a stage. We shall now be able to conduct outdoor and indoor games to channelise the abundant energies of our students. We have three staff rooms. Off late all the toilets and rest rooms are altered and modified and they now don a five star look. We have a staff of 100 employees and have students around 2200 on our muster roll. The campus is not only elegant in its looks, but is maintained with utmost cleanliness. The school has received awards of " clean and beautiful school " in Poona district for last four consecutive years from Kirloskar foundation. We have staff of more than 65 teachers who are experienced and well qualified . The teachers spare no efforts and pour their hearts out with their extraordinary determination, dedication and devotion. The staff of mamas and moushis meticulously maintain the school campus with great care and love.
Having traveled a long distance in a very short time, neither me nor our Trustees or the staff have become stagnant or complacent. We have an infinite dreams in our brains and burning passion in our hearts . In fact, it is just a beginning. Very recently we have come up with a brilliant team under the stewardship of our Principal Kachare Mam and leadership of Anjum Mam. It is a beautiful blend of an experienced brain and dynamism of a young enthusiast. Our horizons are far placed, our vision has expanded and our dreams know no bounds. We are rearing to go and resolute to set new goals, aims, objects, destination and direction.
Chairman Speaks
Adv. Mr. Madhav S. Bhonde
It is a matter of great pride and pleasure, for me personally and for all our Trustees, teachers, staff and students to celebrate silver jubilee of our esteemed institution. It is a major milestone for any organisation and definitely for our school and for all of us. It is a thrilling journey of twenty five years, through thick and thin and sailing through utmost rough and turbulent waters . We have crossed many hurdles , surmounted every challenge, surpassed every difficulty and conquered tall peaks during this period. It was a most harmonious and blissful team work.
Education is an intricate, complex, time consuming and continuous process. We have not become complacent nor  there is any dearth of urge and earnestness to scale new height . In fact with the induction of a new strong team and much accomplished infrastructure we are rearing to go with added zeal, zest, vigour and enthusiasm in pursuit of our goals. The new horizons are inviting us. We are absolutely resolute to tread upon our chosen path with utmost burning passion and with same old devotion, dedication and commitment.
We are aiming at the overall personality development of the students and at mental, physical, intellectual and social levels. We believe in inculcating social awareness and responsibilities, imbibing healthy habits of cleanliness and personal hygiene amongst our students. The ongoing pandemic has earmarked its grave and imminent importance. The newly inducted team under the utmost dynamic and inspiring leadership of Kachare Mam and Anjum Mam and the newly appointed vice Principals , our teachers are looking forward to bring about a radical transformation within the school . I am extremely confident that the team shall take the institution to new scale and unprecedented height in a very short time.
–  Adv. Mr. Madhav S. Bhonde (Chairman)
Words from Secretary
Mrs. Radhika Bhonde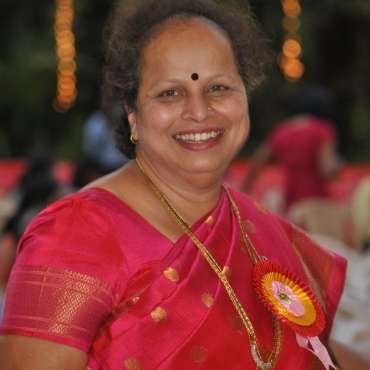 प्रिय विद्यार्थी पालक आणि शिक्षक हो,
ज्या देशात नचिकेत सारखी मुले प्रत्यक्ष यमाला प्रश्न विचारत होती ,भक्त प्रल्हाद सारखा मुलगा वडिलांच्या अत्याचाराला न घाबरता मनासारखे वागत होता ,ध्रुवा सारखा मुलगा अथक परिश्रमाने आढळ पद मिळवत होता, अरुणीसारखा मुलगा केवळ गुरुंच्या आज्ञेने रात्रभर शेतावरील बांधावर झोपून पाणी अडवीत होता. ही मुलं लेचीपेची नव्हती. उलट कणखर होती, कष्टाळू होती, अभ्यासू होती आणि विशेष म्हणजे अन्याय सहन न करणारी होती.
शिक्षणाने माणसाचे चारित्र्य घडायला हवे. माणसाने समाजाभिमुख व्हायला हवे. शिक्षण म्हणजे "समजणं", शिक्षण म्हणजे "स्वतः विचार करणे", शिक्षण म्हणजे "समाजासाठी जीव तुटणं", शिक्षण म्हणजे "कष्ट करु शकणं", शिक्षण म्हणजे "चांगला माणूस होणं", शिक्षण म्हणजे "संकुचितपणा नष्ट होणं"
हे जाणून ज्यांनी शाळा व शिक्षण यावर प्रयोग केले अशी ही "अॕड. बापूसाहेब भोंडे हायस्कूल". तुमची मुले निर्धोकपणे आमच्या हाती तुम्ही सोपवू शकता असा विश्वास निर्माण करणारे आमचे शिक्षक !!
एक आगळेवेगळे स्वप्न उराशी बाळगून "उत्तम मनुष्य "बनविण्याचा ध्यास घेणारे संस्थापक.
तुम्हीच ठरवा घोकंपट्टी, धबडशाही आणि धाकधपटशाने मुले मोठी करायची , का सुजाण, सृजनशील नागरिक घडवायचाय.
–  Mrs. Radhika M. Bhonde (Secretary)
Principal's Desk
Mrs. Anjum F. Shaikh
My voyage in the sea of education anchors me to believe this quote by Ever Garrison
A teacher is a compass that activates the magnets of curiosity, knowledge and wisdom in the pupils.
On behalf of Adv. Bapusaheb Bhonde high school. I am very fortunate to penned down my thoughts.
We are really proud and exuberant to acclaim that we are ready with all new hopes and hues to Welcome Our students and Parents to this shining silver jubilee academic year.
Dear Students and Parents,
Celebrating the fact that each student is different as a person & as a learner with his / her unique identity. Hence, shaping and  sculpting these young and pliable minds at this tender age of primary schooling is the life's biggest challenge for us as an educator.
Life is a lesson to learn and education is just a part of this lifelong learning process. Therefore knowledge gained in school is only one goal of Education achieved. So we also advocate the preaching of moral values to instill and imbibe among our students.
We believe in a joyful learning system and also empowering our students. Therefore, We leave no stones unturned to offer multitudes of opportunities to our children.
We foster quality education with a distinctive curriculum designed especially to develop their formative years of primary schooling in order to attain the towering standards and essential skills for our students.
We strive to respect every unique individual's inspiration and aspirations. So, We mission to hone and integrate the personality of a student in all facets.
We aim at HOLISTIC DEVELOPMENT of a child. We provide hands on learning experiences to stimulate curiosity and interest through play way method of teaching- learning process.
It's natural to find the fragrance of teamwork in this well-equipped , magnificently designed and infrastructure school ambiance.
As "Teamwork is a hallmark of our school"
A committed and supportive management,dedicated incredible teachers, caring and cooperative parents blends harmoniously to create a child centric school.
Parents!
You have always been an integral part to sail in the ship of learning that is laced up to many success stories.
Thank you!!! for those who reposed their faith in our school. We hope and pray that we strengthen this cherished bond as we go along.
Students!!!
Treasure all the opportunities which is given you to study. Ignite the candle of curiosity in yourself. A person is known by his character so work on being a kind-hearted and compassionate person.
I thank each and everyone of the ABBHS family for taking us to higher ranks..
"I find each day an adventure filled with new experiences learning for all of us, and a chance to widen our horizons. It always gives me immense pleasure to see the smiling faces of children each morning!!! :)"
–  Mrs. Anjum F. Shaikh
Headmistress
(Pre- Primary & Primary Section)
Who We Are
Our Staff
We have a great staff at our Adv.Bapusaheb Bhonde High School. They are quite talented and skilled. We have the best teacher and mentors to guide the students.
Our Facilities
Spacious and well- ventilated classrooms

Good Libraries

Spacious Playgrounds

Facilities study tables, chairs, furniture and basic utilities such as water, electricity etc. are well

Spacious Assembly area

Spacious Parents waiting area with sitting facility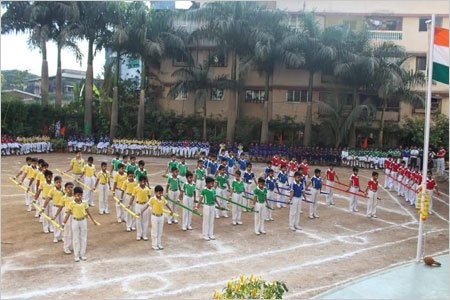 Ground
Nursery Class
Library
Computer Lab
Cybernetyx
Science Lab
Member of Trust
| | | |
| --- | --- | --- |
| | | |
| | Mr. Adv. Madhav S. Bhonde | |
| | | |
| | Mrs. Radhika Madhav Bhonde | |
| | Mr. Milind Suresh Khaladkar | |
| | | |
| | Mr. Adv. Sanjiv S. Khaladkar | |
| | | |
| | | |
| | Mr. Pramod Narayan Bhonde | |
| | Mr. Sanjay Vishnu Golapkar | |
| | | |
| | Mr. Arvind Bhagwan Kulkarni | |
| | | |
| | | |
| | Mr. Vishvas Sharad Kotkar | |
School Committee
| | | |
| --- | --- | --- |
| | | |
| | Mr.Adv.Suhas Vasantrao Nagesh | |
| | Mrs. Pankaja Sameer Kachare | |
| | Mr. Adv. Sanjiv Suresh Khaladkar | |
| | Mr. Milind Suresh Khaladkar | |
| | Mr. Arvind Bhagwan Kulkarni | |
| | | |
| | Mrs. Radhika Madhav Bhonde | |
| | | |
| | | |
| | | |
| | Mrs. Smita Keshav Vedpathak | |
| | | |
| | Mrs. Trupti Abhay Ghawale | |
| | Mrs. Madhavi Mahesh Thatte | |
| | Mrs. Bhagyashree Sandeep Patil | |